Chia seeds are rich in many nutrients such as omega-3 fatty acids, fiber, protein, antioxidants and calcium. Due to the presence of these nutrients, chia seeds can benefit in many serious problems such as diabetes, high lipids, high BP, depression, anxiety, pain and inflammation. Because of this chia seed is considered good for health. How Chia seed proves helpful in all these problems, we will learn more in detail in this article.
6 Benefits Of Chia Seeds For You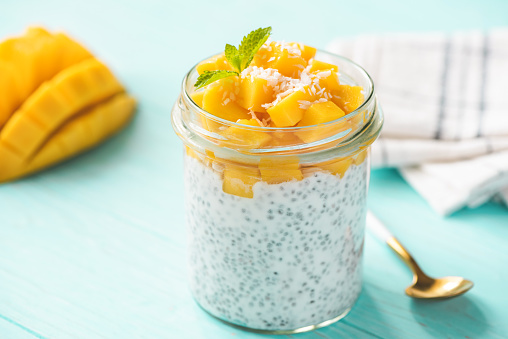 Weight Loss
Chia seed contains a large amount of fiber. It is important to have fiber in your diet to lose weight. Fiber takes a long time to digest, due to which your stomach is full for a long time. Due to being full, you do not eat food frequently, which helps in losing weight.
2. Regulate Blood Pressure
Chia seeds are rich in omega-3 fatty acids that keep blood pressure normal. By keeping blood pressure normal, the risk of many diseases is reduced, especially heart disease. Chia seed in Hindi can prove to be very beneficial for those people who have problems related to BP. Consuming the right amount of omega-3 fatty acids helps to not suddenly increase or decrease blood pressure.
3. Lower cholesterol
Cholesterol is a disease that has become very common, but let us tell you that cholesterol causes many diseases. Those people who have high cholesterol levels should include chia seeds in the diet. Omega-3 fatty acids are found in plenty in chia seeds which help in lowering cholesterol. Omega-3 fatty acids reduce bad cholesterol from the body and help to keep the heart healthy.
4. Relieve Constipation
It has also often been seen that people hesitate to talk about problems related to constipation. Let me tell you that by keeping the stomach healthy, the whole body remains healthy. By adding chia seeds in diet, you can get relief from constipation. Chia seeds are rich in fiber which helps in keeping the stomach healthy. Digestive power works well by consuming the right amount of fiber, which reduces the chances of constipation.
5. Strengthen Bones
Chia can be consumed in order to maintain calcium content. Calcium deficiency can weaken bones. Chia seeds are high in calcium, which can make bones strong. A study has believed that due to the presence of calcium in chia seeds, they help in strengthening bones. In addition, it may be beneficial to eat chia seeds when there is a deficiency of calcium. In addition to calcium, phosphorus is also found in chia seeds which helps to keep bones strong.
6. Provide Energy
Breakfast is said to be the most important food because it gives you the energy to work all day. That is why it is said that breakfast is a must. Breakfast is very important to have a nutritious diet, which will help in giving you energy. Can include chia seeds in your healthy breakfast. The energy from chia seeds will help keep you active throughout the day. Chia seeds contain nutritious foods like vitamin B, zinc, iron and magnesium which help in giving energy to the body.
Why Neuherbs Chia Seeds Are Unique To Your Needs?
Natural and raw chia seeds.

Excellent source of fibers, protein, omega3, vitamins& minerals.

Keep your hunger pangs at bay.


A versatile kitchen staple.

Get free diet recipes.
Healthy Chia Seeds recipes await you! Get a FREE consultation from our expert nutritionists and dietitians! Scan or click the QR code below to chat now!