Nowadays, seeds make up an important part of a healthy diet. But who would have thought that the seeds which we used to throw away are actually tiny superheroes in disguise?
Flax seeds, pumpkin seeds and sunflower seeds are POWERHOUSES of energy and nutrients.These little superfoods are more beneficial than they were thought to be. They help you reach your recommended intake of protein each day, as well as count toward your daily healthy fat allowance. Seeds benefit your health because they offer key essential nutrients and play a role in disease management by keeping you healthy as you age.
The only trick you need to know is how to use them. You can easily include these minuscule superfoods into your eating routine by blending them up in your morning smoothie or sprinkling them on soups, breads, sandwiches, salads and rotis. Trust us, you will become a fan of them in no time!
Here are three tiny superhero seeds which boast of rich nutrition:
Flax seeds: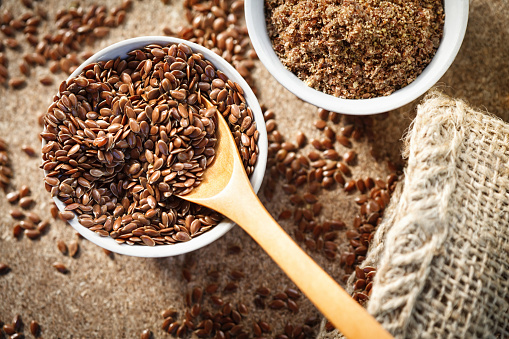 Flax seeds are good sources of many nutrients. Their health benefits are mainly due to their content of omega-3 fats, lignans, fiber, Protein, Carbs, Vitamin B1, Vitamin B6, Folate, Calcium, Iron, Magnesium, Phosphorus and Potassium.
Surprising, isn't it? It's no wonder they were named Linum usitatissimum, meaning "the most useful."
You can use them in a variety of ways. But first, you need to grind them to reap their benefits in a better way.
In fact, you could sprinkle them on cold or hot cereal or mix into yogurt, add to breads and chapatis, stir into soups or daals or mix into salad dressings or sprinkle on vegetable salads.
Health benefits include:
Ability to control digestive issues like constipation, thanks to its high-fiber content.
Lowering levels of bad cholesterol, which also means better heart health.
Better weight management due to fiber content
Can help you feel full.
Improved blood sugar levels.
If you are a vegetarian or don't eat fish, flax seeds can be your best source of omega-3 fats.
Pumpkin seeds: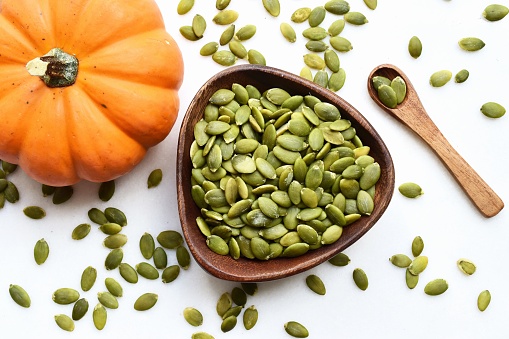 Pumpkin seeds are edible, oval-shaped green seeds. When separated from the tissue of a pumpkin, they can be washed and roasted, either plain or with different flavors, for example, oils and spices, to make a scrumptious, crunchy snack. These seeds are rich in healthy fat, sodium, carbohydrates, fiber and protein. Besides that, they also contain essential minerals such as magnesium, phosphorus, copper, and zinc.
Pumpkin seeds are nutritional powerhouses. They:
Have anti-inflammatory properties
Enhance heart health due to healthy fats, fibers and various antioxidants
Increase good cholestrol levels
Help to regularise blood pressure levels
Promote sound sleep
Build immunity due to high amount of antioxidants and phytochemicals
Improve prostrate health
Help improve blood sugar regulation and decrease oxidative stress
Help in losing weight
Nourish hair
Sunflower seeds:
Sunflower seeds are almost rectangular and round on sides with a pointed top. They are a rich source of carbohydrates, protein, contain a mix of polyunsaturated fat and monounsaturated fat, fiber, and are also rich in vitamins such as vitamin E, thiamin, niacin, vitamin B6, and folate. Minerals in sunflower seeds include copper , magnesium, phosphorous, manganese and selenium and tiny amounts of zinc, iron, and potassium.
They can be eaten raw (without shell) or roasted or sprinkled on your favourite foods.
Health benefits include:
Healthy digestion and satiety due to fiber
Relief from constipation
Healthy weight maintenance
Blood sugar management
Reduced risk of hyperlipidemia (high concentration of fat in the blood), hyperglycemia (high blood glucose), and hypercholesterolemia (elevated cholesterol levels)
Controlled cell damage due to free radicals
Improved skin
Why Neuherbs Super Seed Mix is unique?
Extra boost of vitamins, minerals and everything good here!
Pure, raw, unroasted without additional flavor, color or preservatives.
Tiny superheroes which provide you a healthy dose of protein, fiber, essential fatty acids & healthy minerals.
Uncoocked and fresh! Eat them, roast them, grind, bake or fry them. Your choice!
Excited to know more about the benefits of seeds and their recipes? Get a FREE consultation from our expert nutritionists and dietitians! Scan or click the QR code below to chat now!