The whole world is in the grasp of a pandemic. From children to senior citizens, it hasn't spared anyone. Some of them got in contact with the virus and were hospitalized while those whose immunity was strong enough survived. Till the time a vaccine is available, it is our duty to be responsible for our immunity and health. And going back to the traditional, immunity-boosting herb such as Tulsi is the way to boost our strength against various diseases.
Here Comes Holy Tulsi To Your Rescue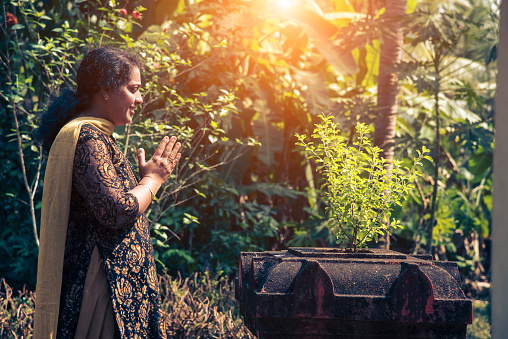 Found in the plains of India along with other nations like Pakistan, Burma and Sri Lanka, Holy Basil or Tulsi is also known as the Queen of Herbs, The Incomparable One, Mother Of Natural Medicine and is among the most cherished herbaceous plants of the orient. Not only is also Tulsi renowned for its religious and spiritual significance, in addition, but it also plays a predominant role in that the traditional Indian system of medicine.
Tulsi is viewed as perhaps the best herb for therapeutic purposes. Actually, it has such health-enhancing properties that it is believed that having a Tulsi plant in your household can help protect you from certain infections and illnesses.
Known to be a strong immunity booster, this queen of that the Orient has that the ability to keep aging and declining health at bay. A medical plant with varied properties, Tulsi is also a safe remedy for cough and cold, bacteria and infections, and high levels of blood sugar. Tulsi likewise contains plenty of antioxidants and micronutrients, which helps protect and strengthen your immune by protecting it from the damage caused by free radicals. Besides that, tulsi is also known to fix fever, help treat respiratory infections, for example, asthma, and help wounds heal faster.
In fact, a study named "Effect of Ocimum sanctum Linn. (Tulsi) extract on the immunity and survival of Labeo rohita (Hamilton) infected with Aeromonas hydrophila" also affirms Tulsi's immunity-boosting properties.
Other Health Benefits Of Tulsi Are:
Boosts cardiovascular health
Controls respiratory illnesses
Lowers stress levels
Soothes indigestion
Regulates blood glucose levels
Improves liver function
Reduces inflammation
A natural mouth freshener
Good for Headaches
Improves gut health
Soothes insect bites
Improves quality of sleep
Nature is truly miraculous, isn't it?
Why Neuherbs Wild Tulsi Drops Is Unique?
A herbal concentrate of Rama Tulsi, Vana Tulsi, Kapuri Tulsi, Vishnu Tulsi and Shweta Tulsi.
Just two drops in a glass of water for better health.
Made from the pristine and natural Ayurvedic ingredients.
Contains no added sugar, salt, additives, flavor, and coloring.
Tested for heavy metals.
Safe for human consumption.
Still have questions? Get a FREE consultation from our expert nutritionists and dietitians! Scan or click the QR code below to chat now!